Check our Events pages and other areas of the website for news. Like us on Facebook (Maine to Cuba Connections)
¡CUBA WEEK 2020!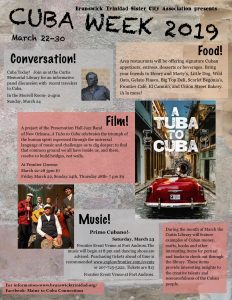 We salute Cuba and our sister city for Cuba Week 2019!
The Brunswick Trinidad Sister City association (BTSCA) is pleased to present its 16th annual Cuba Week.  BTSCA is a non profit organization that promotes constructive and creative non-political interactions with the people of our sister community in Trinidad, Cuba. Cuba Week is sponsored annually in Brunswick celebrating the diverse cultures and common ground with the people of Cuba.
The week of March 22-30 is the chosen week of 2019 for an array of activities for those interested in Cuban culture. This year, local restaurants will feature an assortment of Cuban culinary delights. Please enjoy the culinary creations at Big Top Deli, Scarlet Begonias, Union St. Bakery, Gelato Fiasco, Henry and Marty's, Little Dog Cafe, El Camino restaurant, Wild Oats, and the Frontier cafe.
At the Curtis Library is a wonderful display in the upstairs showcase for the entire month of March. Entitled ¡Hola Cuba!, it features handicrafts, momentos, books, memorabilia and information presented for your interest.
All week there will be a movie offered at the Frontier Cinema. A Tuba to Cuba was created featuring the famous New Orleans Preservation Hall Jazz Band. They retrace their musical roots from the storied city of jazz to the easternmost city of Santiago de Cuba and in turn discover a connection that runs much deeper than could have been imagined. Afternoon shows ($7) begin at 3 pm and are offered on March 22-28. Evening shows ($9) will begin at 7 and will be offered on March 24th and the 28th. Students and seniors are $8.
Primo Cubano will give a salsa concert on the night of Saturday the 23rd. It will be held at the Frontier event venue beginning at 8 o'clock. This is a standing room only event with a limited number of seats to allow for plenty of dancing space.  Primo Cubano plays traditional Cuban dance music dating back to the turn of the 20th Century.  Son is the most popular style to come out of Cuba and is the primary contributor to the blend of Latin styles today known as Salsa. This is often a sold out show so get your tickets early! Enjoy the music and the dancers!
To wrap up the week there will be an informative panel discussion Sunday,March 24 at the Curtis Library featuring recent travelers from Cuba and members of the BTSCA. It will be open free of charge to the public from 2-4. You are invited to bring your comments and questions. Yes, you can go to Cuba!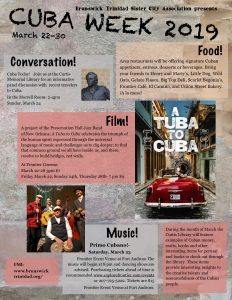 ---

---

You are invited to be part of Cuba Week 2017!
Since 2004 The Brunswick Trinidad Sister City Association has brought the flavors and sounds of our Caribbean neighbor to the streets of Brunswick, Maine.
Traditionally local restaurants have also shown their solidarity with Trinidad, Cuba to feature a Cuban dish or beverage in their establishment. On Tuesday, March 28 enjoy a full course Cuban dinner at The Brunswick Inn. Wild Oats brings their enthusiasm from a recent island visit for the week of March 26th. Eat in or take out. Gelato Fiasco will feature mojito sorbet to bring you thoughts of warm island breezes. Also participating are Henry and Marty's, Big Top Deli and Scarlet Begonias.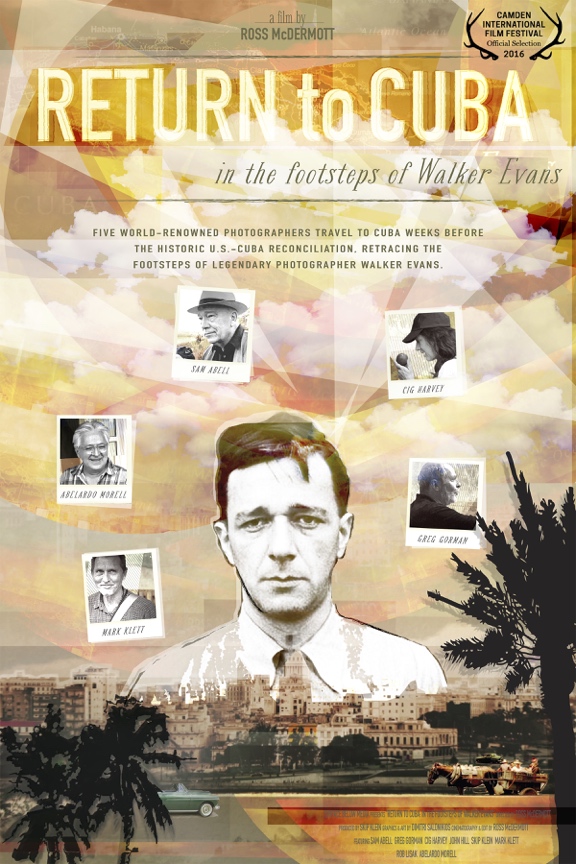 This year Cuba Week will take place on March 26th -April 2. There will be a display of Cuban handicrafts and arts in the Curtis Library during the month of March, a concert featuring the popular group, Primo Cubano, a lively panel discussion with Cuba travelers, and a film shown at Bowdoin College- Return to Cuba-In the Footsteps of Walker Evans.
Five world-renowned photographers travel to Cuba just weeks before the historic U.S.-Cuba reconciliation in 2014. Retracing the footsteps of legendary photographer Walker Evans, they reinvent his iconic 1930s images at a new historical tipping point. Director Ross McDermott intertwines Evans's pre-Castro Cuba with the busy streets of Havana and the countryside of Viñales. From the quick yet studied street-style photography of Sam Abell to the uncommon camera-obscura practices of Abelardo Morell, these master photographers reinterpret Cuba for the 21st century. This colorful documentary brings together five unique visions of Cuba's complex and transforming cultural landscape.- http://inthefootstepsofwalkerevans.com/